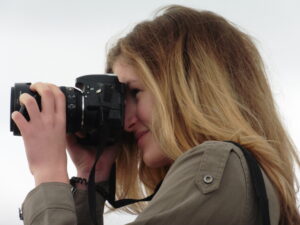 I didn't know what to expect before I came to New Zealand, Everyone who had done an exchange before and I had talked to just said it was amazing. So I assumed I was going to have a great time and make some friends. But it was definitely so much more than just that – here, on the other side of the world. I spent the best 6 months of my life.
My name is Elea Ness. I am 15 years old and I come from a small city in the southern part of Germany that is called Ulm. All my life I had wanted to do an exchange one day, to improve my English, to get to know a new culture and lifestyle and to make friends for a lifetime. So when I left Germany in the beginning of this year I was sad, since I had to say goodbye to everyone, but I was also looking forward to this adventure that was finally about to start. I thought six months would be an incredinly long time. But it wasn't time was flying here and now my time is nearly over and I will have to leave beautiful New Zealand very soon.
During my time here I got to do so many different things. The subject CNZ made it possible for us, a group of internationals, to travel around and see a lot of this country. We did the Tongariro Crossing for example, which just showed us once more how unique, stunning and beautiful New Zealand is. Apart from that I also did some trips that the school had organized, like a surfing trip. In the April holidays I went to the South Island for two weeks, which was also organized by the school. We all had a great time down there, made new friends and saw as much as possible of New Zealand during that time. In Queenstown I aslo got to do a bungee jump which was one of the craziest things I've done in my life, however it was awesome and I'd definitely do it again.
But It were not just the trips that made my time here so good. I made great friends, whom I'll miss heaps and had so may great days with kiwis are so much more friendly than a large part of the Germans, which was one of the first things I noticed when I arrived in New Zealand, and I enjoyed every day that I could spend with them. My host family here was also great. They made me feel at home, Ihad a lot fun with them and will miss them so much and saying goodbye to them will be one of the hardest things I have had to do in my life.
Although I've only got less than 2 weeks left there are still things that I can look forward to, since I'll go to Lake Taupo with my host family where I will do a skydive which is probably going to be another highlight of my time here. Thank you so much to everyone who made this exchange as amazing and incredible as it was, I will miss you so much but one day I'll definitely come back to New Zealand.