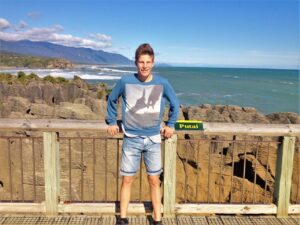 New Zealand also offers a wide range of different lifestyles with bigger cities like Wellington and especially Auckland which is comparable to  big cities in the rest oft the world. But you can also choose to do your exchange in smaller towns like Wanganui. That is where I've been living the past six months and I really enjoyed it. It is a little town with approximately 48000 inhabitants and you have everything you need. Big grocery stores, a cinema, sporting facilities, a river and it is close to the national park and of course the sea. 
The thing I enjoyed the most here in New Zealand was the big range of possibilities do all the sports I like. I was playing football and tennis here, which are the sports I have already done in Germany but I also tried heaps of other sports like badminton, swimming, cross country running or even kayaking. I even won the school cross country of the school in my age group. And it wasn't even hard to get into the different sports teams because all of the Kiwis are so kind and helpful that you always get a place somewhere. And of course I had great support from Verena and Matt.
At school I really liked having subjects I am not able to take in Germany. In Germany most of the subjects are compulsory so you don't really get the choise. But here you can take seven subjects out of an offer with probably around fourty different kinds of subjects. I took Spanish and food and nutriton which I can't take at my school in Germany. But they might be offered at other schools. But of course there are subjects like drama and performing arts ,technology etc.which are completely unknown in Germany and you are definitley not able to take them there.
Once again I need to say that it was the best decision ever to come here and I have never regretted it. I also had a great support from YougoNZ, Verena, Matt and the whole family which I am really thankful for. I will definitely come back in the future.
Loris
2016